Best Artificial Intelligence Quotes
Here is an assortment of artificial intelligence quotes.  Once you read some of the quotes it is easy to see why AI is so important.
"I am telling you, the world's first trillionaires are going to come from somebody who masters AI and all its derivatives,and applies it in ways we never thought of." ~Mark Cuban
"Google will fulfill its mission only when its search engine is AI-complete. You guys know what that means? That's artificial intelligence." ~Larry Page
"Predicting the future isn't magic, it's artificial intelligence." ~Dave Waters
"Artificial Intelligence is the new electricity." ~Andrew Ng
"Every serious technology company now has an Artificial Intelligence team in place. These companies are investing millions into intelligent systems for situation assessment, prediction analysis, learning-based recognition systems, conversational interfaces, and recommendation engines. Companies such as Google, Facebook, and Amazon aren't just employing AI, but have made it a central part of their core intellectual property." ~Kristian J. Hammond
"If people trust artificial intelligence (AI) to drive a car, people will most likely trust AI to do your job." ~Dave Waters
"The development of full artificial intelligence could spell the end of the human race….It would take off on its own, and re-design itself at an ever increasing rate. Humans, who are limited by slow biological evolution, couldn't compete, and would be superseded." ~Stephen Hawking
"Machine intelligence is the last invention that humanity will ever need to make." ~Nick Bostrom
"Artificial Intelligence, deep learning, machine learning — whatever you're doing if you don't understand it — learn it. Because otherwise you're going to be a dinosaur within 3 years." ~Mark Cuban
"Artificial intelligence will be part of the home just like the light bulb."  ~SupplyChainToday.com
"Artificial intelligence will digitally disrupt all industries.  Don't be left behind." ~Dave Waters
"Before we work on artificial intelligence why don't we do something about natural stupidity?" ~Steve Polyak
"The future is ours to shape. I feel we are in a race that we need to win. It's a race between the growing power of the technology and the growing wisdom we need to manage it." ~Max Tegmark
"The techniques of artificial intelligence are to the mind what bureaucracy is to human social interaction." ~Terry Winograd
"Once you trust a self-driving car with your life, you pretty much will trust Artificial Intelligence with anything." ~Dave Waters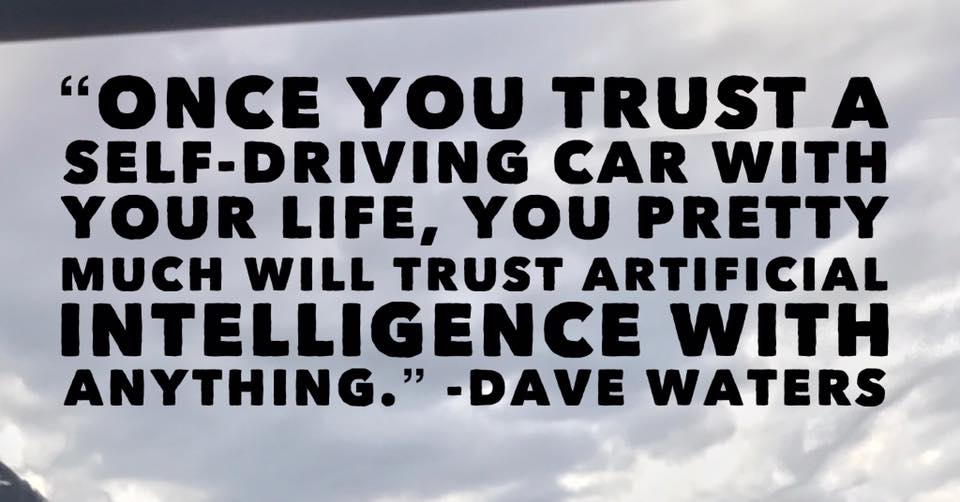 "Everything that civilisation has to offer is a product of human intelligence; we cannot predict what we might achieve when this intelligence is magnified by the tools that AI may provide, but the eradication of war, disease, and poverty would be high on anyone's list. Success in creating AI would be the biggest event in human history. Unfortunately, it might also be the last."
~Stephen Hawking
"We have some catching up to do in the area of machine learning and artificial intelligence." ~Klaus Froehlich
"People are trusting Artificial Intelligence with their lives in self-driving cars. What's next?" ~EverythingSupplyChain.com
"I'm increasingly inclined to think there should be some regulatory oversight, maybe at the national and international level just to make sure that we don't do something very foolish."
~Elon Musk
"Artificial Intelligence will be rampant in the digital supply chain" ~Dave Waters
The field of Artificial Intelligence is set to conquer most of the human disciplines; from art and literature to commerce and sociology; from computational biology and decision analysis to games and puzzles." ~Anand Krish 
"Keep it simple.  The following are just new ways to improve the supply chain: Internet of Things (IoT), Big Data, Machine Learning, Deep Learning, Augmented Reality, Blockchain, Drones, Artificial Intelligence." ~SupplyChainToday.com
"We are entering a new world. The technologies of machine learning, speech recognition, and natural language understanding are reaching a nexus of capability. The end result is that we'll soon have artificially intelligent assistants to help us in every aspect of our lives." ~Amy Stapleton
"The ultimate search engine would understand everything in the world. It would understand everything that you asked it and give you back the exact right thing instantly. You could ask 'what should I ask Larry?' and it would tell you." ~Larry Page
"The digital supply chain includes Big Data, IoT, machine learning, blockchain, augmented reality, drones, and deep learning." ~SupplyChainToday.com
"Robots took the jobs of factory workers. Artificial Intelligence will take the jobs of office workers." ~EverythingSupplyChain.com
"Just as electricity transformed almost everything 100 years ago, today I actually have a hard time thinking of an industry that I don't think AI (Artificial Intelligence) will transform in the next several years." ~Andrew Ng
"We can't really predict what might happen next because superintelligent A.I. may not just think faster than humans, but in ways that are completely different. It may have motivations — feelings, even — that we cannot fathom. It could rapidly solve the problems of aging, of human conflict, of space travel. We might see a dawning utopia. Or we might see the end of the universe." ~Rick Paulas
"Artificial Intelligence will be rampant in the digital supply chain" ~Dave Waters
"Artificial intelligence is based on the assumption that the mind can be described as some kind of formal system manipulating symbols that stand for things in the world. Thus it doesn't matter what the brain is made of, or what it uses for tokens in the great game of thinking. Using an equivalent set of tokens and rules, we can do thinking with a digital computer, just as we can play chess using cups, salt and pepper shakers, knives, forks, and spoons. Using the right software, one system (the mind) can be mapped onto the other (the computer)." ~George Johnson
"We are creating a world where computers can take over. Artificial Intelligence, autonomous vehicles, drones, .  Scared yet?"  ~SupplyChainToday.com
"Artificial intelligence will reach human levels by around 2029. Follow that out further to, say, 2045, we will have multiplied the intelligence, the human biological machine intelligence of our civilization a billion-fold." ~Ray Kurzweil
"Self-driving vehicles, automatically choosing the most efficient route… Artificial Intelligence will dramatically improve logistics." ~Dave Waters
"One of our big goals in search is to make search that really understands exactly what you want, understands everything in the world. As computer scientists, we call that artificial intelligence." ~Larry Page
"Be a supply chain innovator. Research Internet of Things (IoT); Machine Learning; Deep Learning, Big Data, Blockchain, Drones, Augmented Reality, Artificial Intelligence…" ~EverythingSupplyChain.com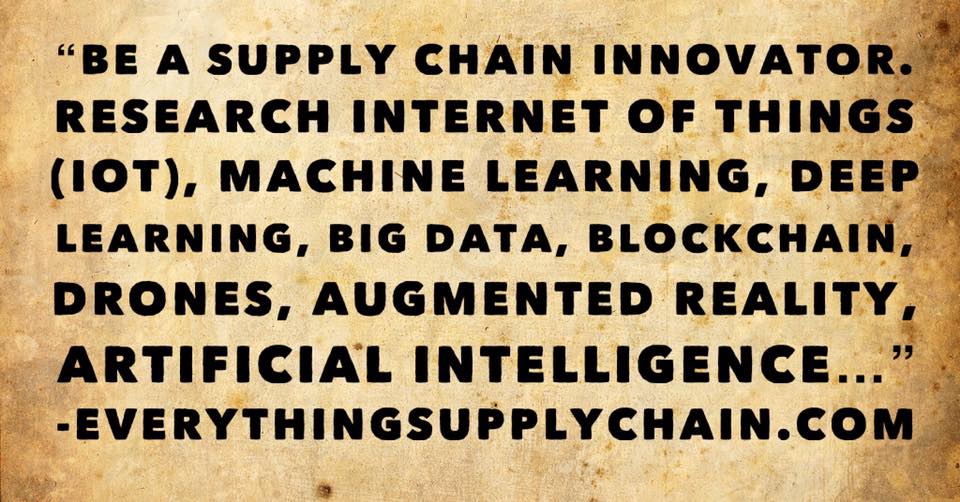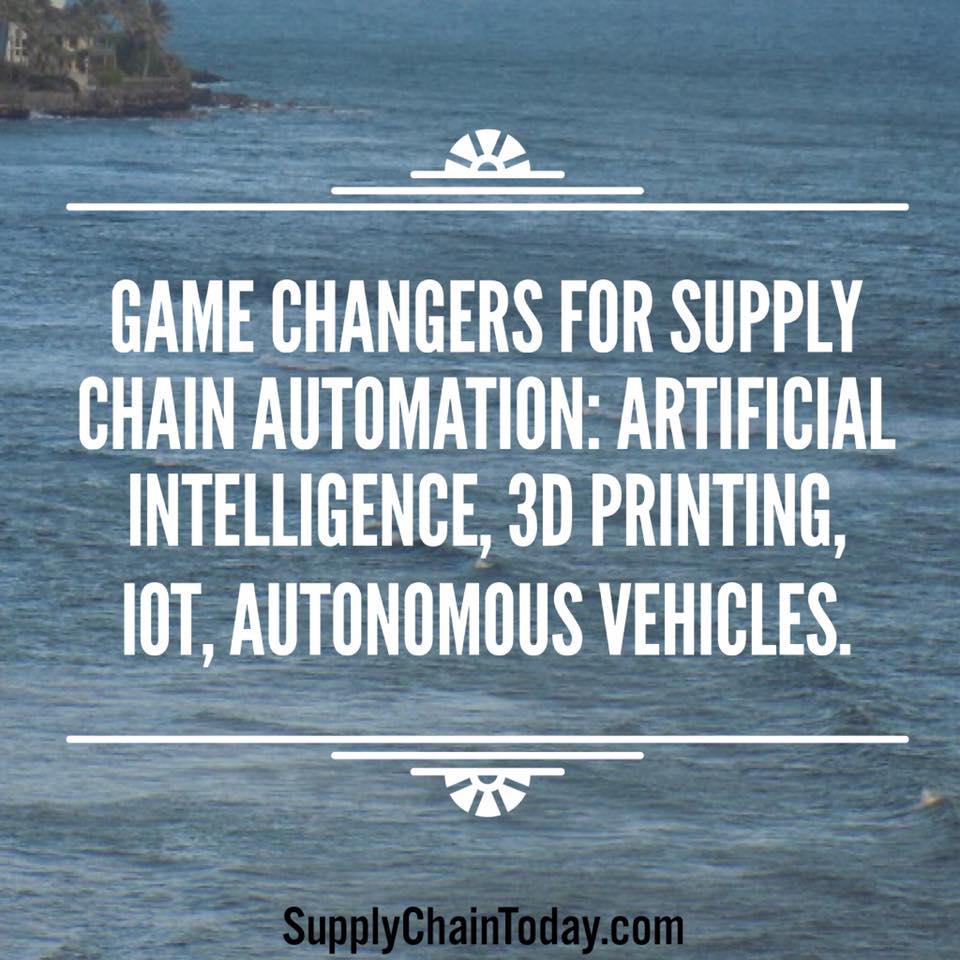 Artificial Intelligence, Machine Learning, Deep Learning Training.