Apple CEO Tim Cook, Supply Chain Expert
Apple CEO Tim Cook is following Steve Jobs as the top person at Apple.  This is no easy task considering Steve Jobs' cult following.  Steve Jobs did amazing things at Apple and Tim Cook is doing very well also.  Apple continues to do amazing things under Tim Cook.
Tim Cook was Apple's Chief Procurement Officer and he now has the top position at Apple.  Steve Jobs brought in Tim Cook in 1998 to make Apple's Supply Chain lean and agile.  Steve Jobs wanted something similar to what Michael Dell did with Dell Computer's Supply Chain.  The Apple Supply Chain is now considered one of the best in the world.  Many would say the best in the world.  Tim Cook is one of the main reasons for the supply chain at Apple being so good.
Tim Cook Quotes
"For the most important decisions in your life, trust your intuition, and then work with everything you have, to prove it right." ~ Tim Cook, Apple CEO
"We are the most focused company that I know of or have read of or have any knowledge of. We say no to good ideas every day. We say no to great ideas in order to keep the amount of things we focus on very small in number, so that we can put enormous energy behind the ones we do choose ….. It's not just saying yes to the right products, it's saying no to many products that are good ideas, but just not nearly as good as other ones." ~ Tim Cook, Supply Chain Expert
"Apple Stores Offer the Best Buying Experience and Customer Service On The Planet." ~ Apple CEO Tim Cook
"Our whole role in life is to give you something you didn't know you wanted. And then once you get it, you can't imagine your life without it. And you can count on Apple doing that." ~ Tim Cook, Supply Chain Expert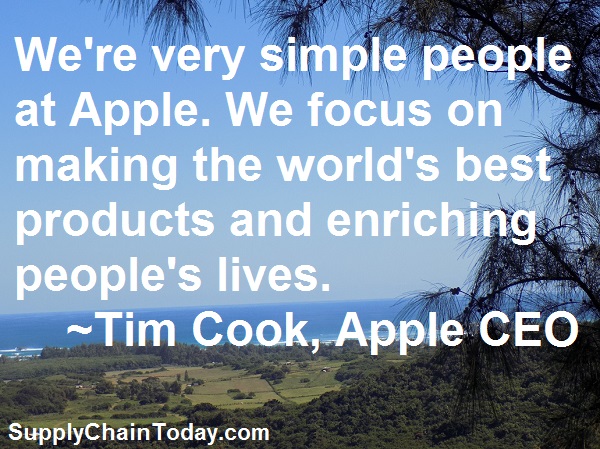 "Winning has never been about making the most." ~ Tim Cook