Introduction to the Supply Chain Operations Reference Model (SCOR). SCOR has been in existence for many years. It is improved upon every few years. If you aren't sure what SCOR is this may help you remember: PLAN, SOURCE, MAKE, DELIVER, RETURN, ENABLE.

Supply Chain Information.
Supply Chain Quotes
"For much of Toyota's history, we have ensured the quality and reliability of our vehicles by placing a device called an andon cord on every production line – and empowering any team member to halt production if there's an assembly problem. Only when the problem is resolved does the line begin to move again."  ~ Akio Toyoda, CEO Toyota Motor Company.
"If you don't have an essential item that puts people into chaos.  What happens if the coffee runs out in the morning?  Simple but you get the picture."  ~ Dave Waters.
"If you think of standardization as the best that you know today, but which is to be improved tomorrow; you get somewhere." ~ Henry Ford, founder Ford Motor Company.
"All we are doing is looking at the time line, from the moment the customer gives us an order to the point when we collect the cash. And we are reducing the time line by reducing the non-value adding wastes."  ~ Taiichi Ohno, father of Toyota Production System (TPS).
"If anything is certain, it is that change is certain. The world we are planning for today will not exist in this form tomorrow."  ~ Phil Crosby.
"Every breakthrough business idea begins with solving a common problem. The bigger the problem, the bigger the opportunity. I discovered a big one when I took apart an IBM PC. I made two interesting discoveries: The components were all manufactured by other companies, and the system that retailed for $3,000 cost about $600 in parts."  ~ Michael Dell, founder of Dell Computer.  Supply Chain Expert.
"Supply chains are everywhere.  From the biggest company in the world to running your household.  We all have supply chain experience even if we don't know it."  ~ Dave Waters.
"Many of our best opportunities were created out of necessity. " ~ Sam Walton, founder of Walmart.
"I say an hour lost at a bottleneck is an hour out of the entire system. I say an hour saved at a non-bottleneck is worthless. Bottlenecks govern both throughput and inventory." ~ Eliyahu M. Goldratt, The Goal.
"You will not find it difficult to prove that battles, campaigns, and even wars have been won or lost primarily because of logistics." ~ Dwight D. Eisenhower.
"Supply Chain is simple when broken into small pieces.  But breaking it into understandable small pieces can be the difficult part." ~EverythingSupplyChain.com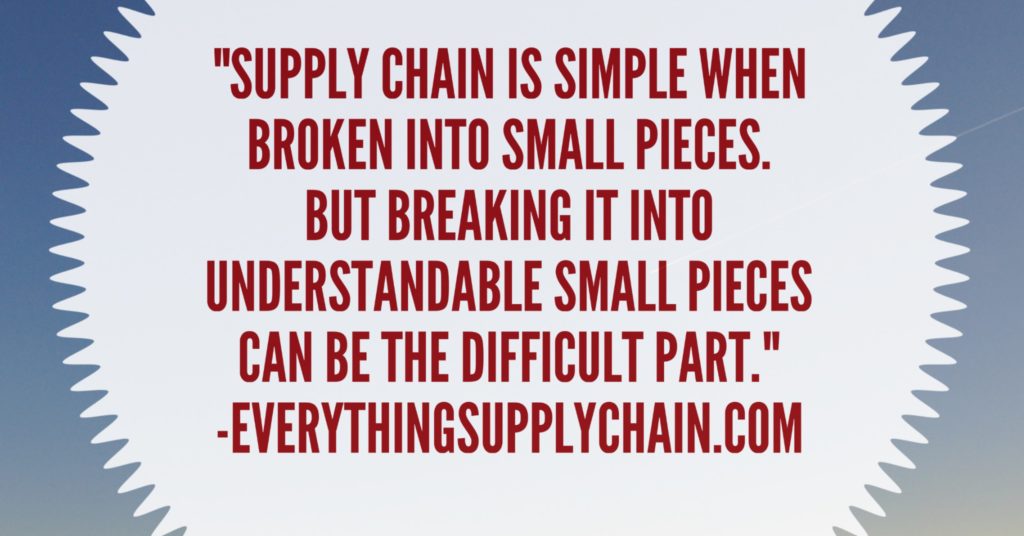 Supply Chain Experience: Plan a meal for 10 people. Everyone must get the food they want and you can't run out.  You have a $100 budget.  Now plan and execute.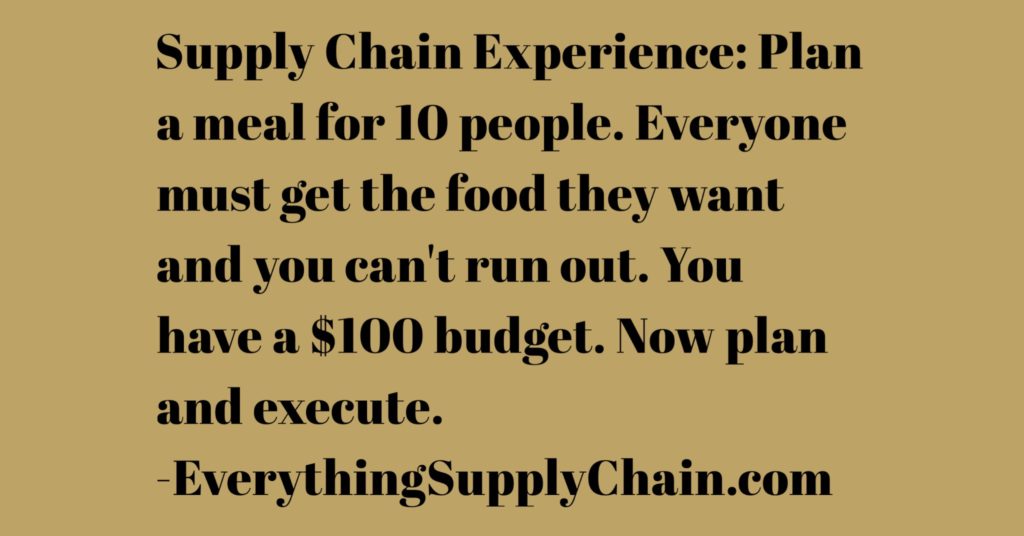 Supply Chain is like nature, it is all around us.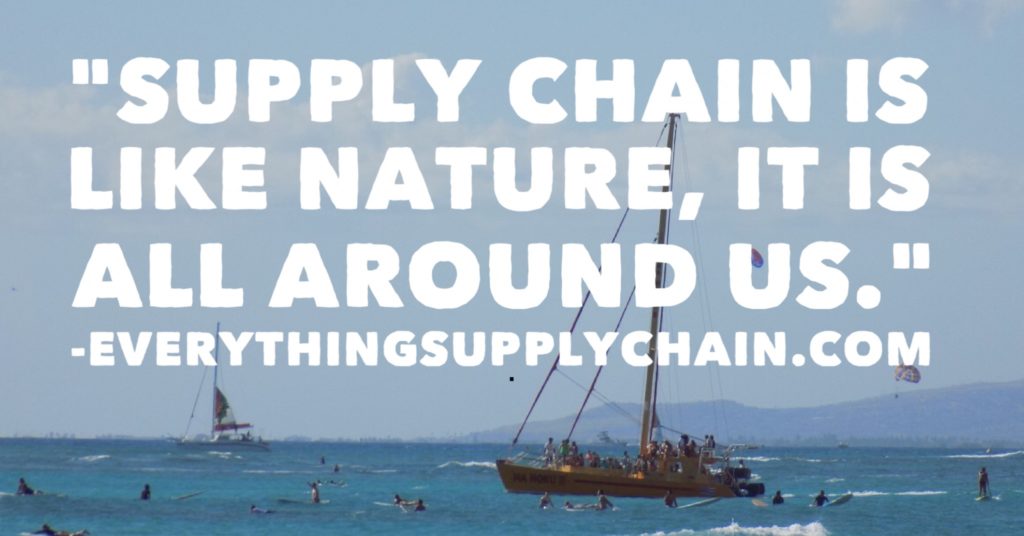 "Many of our best opportunities were created out of necessity." ~Sam Walton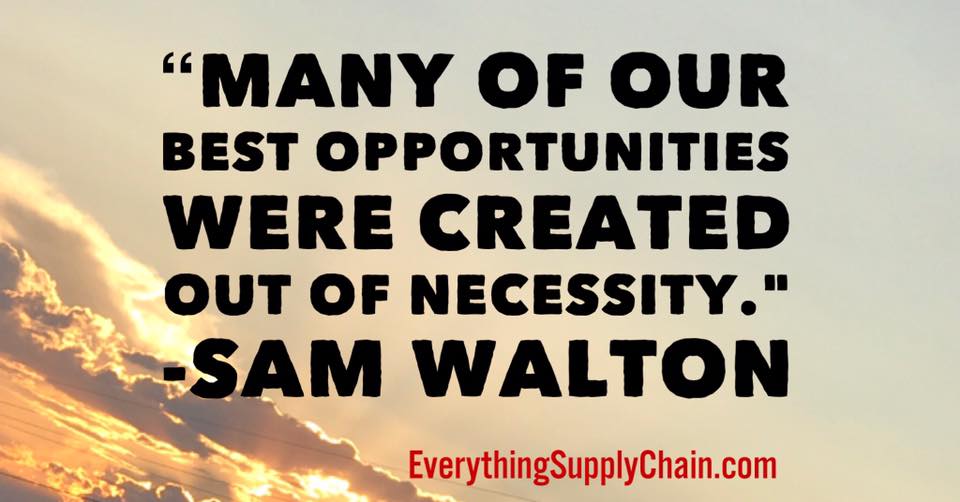 "Let us never negotiatie out of fear.  But let us never fear to negotiate." ~John F. Kennedy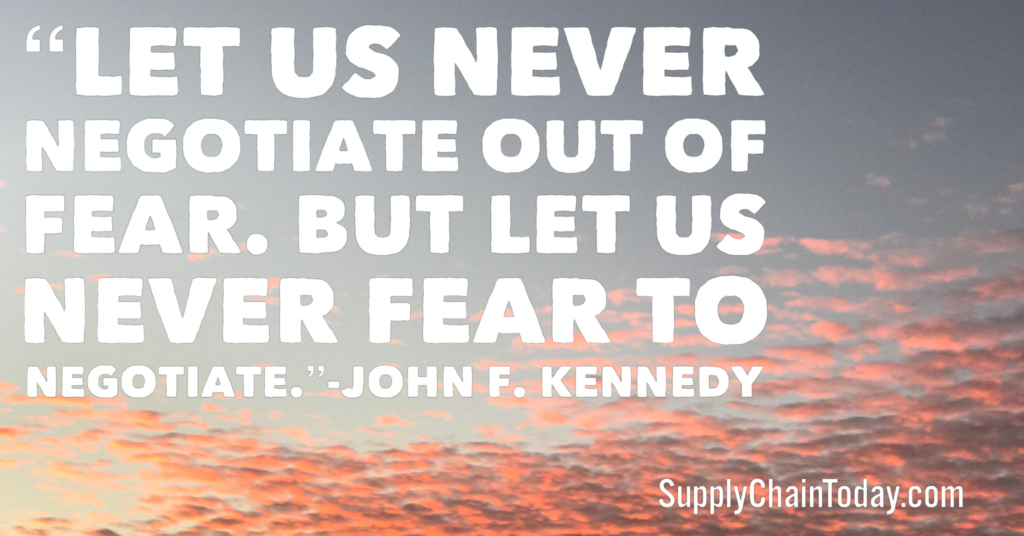 "The business schools reward complex behavior more than simple behavior, but simple behavior is more effective." ~Warren Buffett